orange-1
VERT, VIRTUAL EDUCATION IN RUBBER TECHNOLOGY
VERT - Virtual Education in Rubber Technology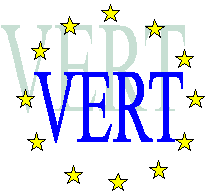 A professional training program for the rubber industry called Virtual Education in Rubber Technology (VERT) has been developed by different European universities and companies. This work is supported by the EU within the Leonardo da Vinci program. Läroverket i Småland AB had the task to develop a material, both text and figures about processes for elastomeric materials, Processes of Elastomeric Materials.
The aim
The aim of the training program was to improve the competitiveness of the European rubber activities. The VERT training program is a unique in the sense that it presents an educational program covering the full knowledge on components, design and production of rubber products up to the assessment of the performance of the rubber end-products (e.g. tyres) as part of a complete systems (e.g. vehicles) for the first time. It is a flexible program in the sense that an individual choice of the relevant parts of the training material can be made.
Target groups
VERT modules may be used by different target groups, such as students, technicians, researchers, product developers and machine operators.
The project
The project was ended in 2007 and vi may proudly state that the result turned out to be quite good.
In Sweden VERT has been used in higher rubber technology courser, for example but also as reference material for those who wants to get deeper into the subject.
Now available to everyone!
We have choosen to make VERT available to everyone by publishing the texts from all the modules, in PDF-files. Please, enjoy the reeding!
It would make us happy if VERT can be a valuable contribution as a knowledge source in the rubber field.
You will find the different modules of VERT under the links to the right.